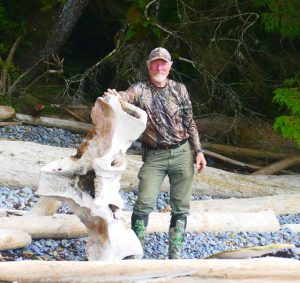 My name is Boyd Porter and I live in Ketchikan, Alaska with my wife Diana. We moved to Alaska looking for adventure and following the lure of wilderness and wild places. 
During my early years in Alaska I worked in the stone and brick masonry construction field. I also worked in the commercial fishing industry and as an assistant Alaska big game hunting guide for several years. I dreamed about working with wildlife since I was a boy and began taking college classes in Anchorage to explore the wildlife management profession. After a few difficult challenges I succeeded in finishing school and living my childhood dream. I have a Bachelor's Degree in Biology from University of Alaska and a Master's Degree in Wildlife Management from University of British Columbia. I am now retired as the Wildlife Management Biologist for Alaska Fish and Game, and plan to get involved in wildlife-related projects in exotic places.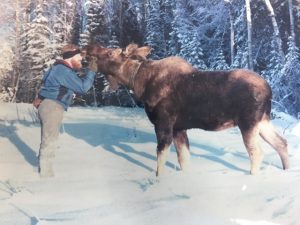 We enjoy spending time on the vast saltwater waterways around Ketchikan, fishing, hunting, hiking, and exploring. In my spare time I teach Forest and Deer Ecology to Middle and High School students. I also teach Firearm and Hunter Safety as well as Bear Safety to the community. 
I have many interests in arts and crafts and especially Alaskan art. Over the years I have done many types of carving, sculpture, pencil and ink wildlife drawings, fur sewing, taxidermy and antler and bone scrimshaw work. I enjoy creating art from nature and, as you can see, this interest is captured in my fossil knives. I enjoy blending many natural elements to create my knife handles including: fossil mammoth tusk, bone and tooth, fossil Steller's sea cow bone, bison horn, fossil Steppe bison bone, musk ox and Dall's sheep horn. I also use 400 million year–old fossil corals from nearby Prince of Wales Island, fossil walrus jawbone and tooth, and many other fossils from Alaska. Nature has already created the beautiful designs, tones and colors and I have simply developed a way to present them in an artistic and useful way. 
The cow leather I use for fixed blade knife sheaths is 9-10 oz. thick, or about 5/32 of an inch (4mm). For some folding knives and neck knives, which are lighter and smaller, I may use a thinner leather, usually about 6 ounce. You might wonder why factories or mass-produced knife sheaths are usually made of thinner leather, sometimes without welts? The reason is that they are machine stitched, and machines cannot stitch through three quarters of an inch or more of tough leather. My sheaths are all hand stitched and I also take time to include leather rivots at all the stress points. This makes a solid but handsome handmade leather product. It also insures your sharp knife will not punch through the sheath and it is a product that will last for many years with normal field use. Sheaths are weather sealed with a water repellent product to insure the leather does not absorb moisture and also prolongs the life of the leather. Each sheath is custom constructed for one knife and the sheath is made after the knife is complete so I can insure the knife fits snuggly and will not simply fall from the sheath during field use. Each leather sheath is hand tooled and burnished so there are no rough edges. It's simple really; a beautiful knife deserves a beautiful and matching sheath. 
I market my knives as "functional art" because I make them sturdy to be used in the field. I tell folks "take them out and use them in your fishing and hunting, then bring them home, dry them off and display them on your mantel." I have personally torture tested these knives in all kinds of rigorous situations. They work really well, hold a sharp edge, and are made to fit nicely in your hand. I either purchase or personally collect all the materials for my knife handles here in Alaska. 
I have worked and lived in Alaska for almost 40 years and my art work reflects my love of this great state and the incredible fossil history across the vast and varied landscape.